Book Reviews
Necromancer Awakening and Necromancer Falling, the first two installments in Nat Russo's Mukhtaar Chronicles are mind-blowing, epic tales of a stranger, Nicholas, thrust into a strange land where he is hearalded as the next messiah; a dangerous position to be in if you don't know who to trust, what is expected of you or how to access your very powerful abilities.
Nicholas finds a mentor/adversary in Mujahid, a fellow magic-wielder who has much more information about Nicholas than he shares. Nicholas is forced to flee from those who would kill him or exploit his powers on a fast-paced race to discover who he is before he is discovered and killed. Mujahid both helps and hinders Nicholas in his quest. The two develop a deep, complicated relationship as they both navigate their politically and spiritually charged realm to save both the land of the Mukhtaar and our own world from the evils of those who have achieved ultimate power and, as a result, complete corruption.
Digital Storm by Benjamin Gorman
A brilliant, scientce-fiction retelling of Shakespear's The Tempest set in a modern-day international banking system's intranet where Prosper, an AI program that has been banished plots his revenge upon the creators. Inside his digital world, he creates a setting for his daughter Memoranda and the cast of reasonably familiar characters to carry out his revenge upon the CEO and board who have betrayed him. As the story unfolds, the reader is swept into Prospero's world, picking up on his rage and despair, hoping desperately that he can maintain his sanity before sacrificing everything he has created.
A cautionary tale, The Digital Storm reminds us of our own humanity and our responsibility to treat our world and each other with respect and compassion or face dire consequences.
       Bitter Snow by Lauren Sweet
A marvelous modern spin on the old world tale The Snow Queen! Gillian's dark hair and amber eyes make her stand out in her small town of fair-skinned, blue-eyed German immigrants. Adding to her difficulties is her wish to transform her lifelong best friend Kai into something more romantic. What better opportunity than the Winter Dance? All Gilly's plans to entice Kai to ask her to the dance are going smoothly until a stunningly beautiful girl moves to town, capturing Kai's heart and destroying Gilly's hopes.
What's a girl to do when an evil ice princess moves in on her man? Don a fabulous red dress and killer heels and go kick some demon ass, that's what! If only it were that simple…
                       Dark Solstice
It was one tiny little mistake, but it cost Gilly everything she held dear. In her efforts to thwart the Snow Queen Perchta, Gillian inadvertently is tricked into opening the door to evil. Now her entire town, the entire world is at risk. After witnessing the horrifying ritual that turned Kai into Perchta's slave, Gilly is determined to fix her mistake. Fortunately for Gilly, a handsome dark stranger Bran has also moved to town and seems intent on protecting her and winning her heart. Who is he and how is he connected to the evil running rampant in the streets? Can she trust Bran, who seems to have way more information than he's letting on? Her friends Niko and Annabell don't think so and they're determined to help Gilly get to the bottom of Perchta's plans to take over the world and stop her without any supernatural help.
Gilly thinks that they're being dangerously stubborn until she sees the blue sparks fly from Niko's hands. Who knew her dearest friends were magical? Did she have her own magic that she could call on? Gilly decides to get her red dress cleaned and repaired and take on Perchta and her minions with her friends at her side.
                        Twelfth Night
Enthralling! The mysterious Bran awakens the powers that lay dormant in Gilly, but at what cost? With Twelfth Night and the Winter Dance approaching, Perchta and her minions are gearing up to open the hell gate and loose their demons into the world. Only Gilly, the Hunter's Daughter, her friend Annabell the Seer and Niko, a Bellsnichol in training have the power to stop her, but can they do it in time? If all else fails, they can always call up Holda and The Great Hunt to run the demons out of town.
The price of asking the immortals for assistance is steep, but Gilly is willing to pay it to save her town, her friends and the boy she loves – even if it means sacrificing herself.
The storytelling is brilliant. Perchta is as terrifying as Gilly is inspiring. I can't wait for the next round of novellas in this series!
Marissa Meyer's new release Scarlet will keep fans of Cinder riveted to their seats with a bigger cast of characters including the familiar roles of grandmother, red riding hood and the big bad wolf. Although the elements of the classic fairy tale exist, they are cast in such a brilliant and unexpected setting that you will not know what to expect. Scarlet weaves an action-packed plot in a futuristic dystopian world that will thrill lovers of both paranormal romance and science fiction/fantasy.
Linh Cinder's escape from the prisons of New Beijing take a secondary role to the introduction of tough-talking delivery girl Scarlet Benoit. When Scarlet's grandmother disappears without a trace, the red-haired beauty mounts a search, but she finds more than she ever expected. When her absentee father shows up tortured and seeking an undefined secret, Scarlet is compelled to flee her home and search farther for her grandmother. Aiding her in her search is Wolf, a dangerous stranger who Scarlet can't decide is trustworthy or not. As Scarlet and Wolf make their way to Paris and the answers to their questions, they connect with Cinder and the mysterious history that brings them all together is explained. Now, if only they can keep the secret from the evil Lunar Queen Levana.
I met Marissa Meyers at the Barnes and Noble author event in October and was intrigued by her unique twist on the classic fairy tale. My interest was well-founded. Cinder is a tightly-woven story with no slow spots. I couldn't put it down! Although there is the element of budding romance and recognizable scenes from the original, this story stands easily on its own with twists and turns both gut-wrenching and humorous. Personally, I think it would make a fantastic movie…the futuristic science fiction perspective bound with historical plague references keeps the audience on their toes. Well done Marissa! Looking forward to reading your sequel Scarlet!
Wow, what can I say? I'm not a science fiction fan, but the artwork on the cover captured my interest. I'm glad I followed my instincts and bought this book. It's a non-stop, action-packed adrenaline ride!
The main character Dezmara has endearing qualities that make you want to root for her while recognizing her all-too-human frailties make her struggle and earn every single gain.
Sean Allen writes in a visually stunning and vivid style, bringing the worlds and the creatures that populate them to life in a stunning way. Heavy on the metaphors and colorful language to make a point, his impact is powerful. The ending was both satisfying and yet left me anxiously awaiting his second novel. Congratulations Sean Allen on a fantastic debut novel and cheers to your successful career! You've made a SF convert out of me!
KNIGHT TIME by Laurie Eddy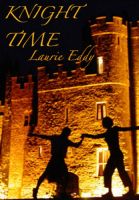 Renaissance Faire mavens and SCA buffs take note: this delightful and historically accurate romp through the twelfth century will leave you breathless for more from Laurie Eddy! The heroine, Marian Tyler, is a modern-day computer programmer of successful medieval role-playing games who haunts Renaissance Faires in Marin County, CA as the proprietess of Maid Marian's Herbal Delights. Imagine her shock when, after grasping a magical grail, she is transported into the 12th century, alighting from a burst of light in the sky as if sent from God and effectively stopping the hanging of our hero, Sir Thomas de Percivale
Marian joins the Knight Errant on his journey home from the Crusades and while she tries to figure out where she is and how to return home, unwittingly assisting him in his bid to secure his family's lands from the evil Bishop Flambard of Durham. The sparks between the modern woman and the chivalrous knight fly from their battles of wits and intellect and their cooperative resourcefulness for achieving their independent goals.
Eddy weaves a masterful tale, full of action and tastefully rendered erotica that is equal parts tension and romance. Her characters quickly become old friends that the reader is loathe to leave upon the book's satisfying conclusion. Watch for more from Laurie Eddy!
MY WAFFLE DREAMS by Norm Rawlings
I've known Norm since Jr. High and I half expected this to be the conceited ramblings of a bitterly disappointed jock. Norm is the handsome athelete that guys wanted to be friends with and girls wanted to date. He had dreams of playing Major League Baseball, but that didn't happen. I've never been so wrong in my assumptions. Thanks Norman for taking me to a totally unexpected place!
This poignant set of vignettes show the process of introspection and insight from a man who has truly gone from having it all to losing everything and learning the valuable lessons of life that make his existence not only bearable but phenomenal. Perhaps it is cliche, but when life changing events honestly make a difference in a person's life, it's always a beautiful thing.
This is chicken soup for the disenfranchised, disappointed men who have lost their dreams, lost their families and their jobs and have found value in their lives through no other resource than their own perseverance and recognition of the divine within themselves. Written with humor and a good sense of the ridiculous, readers will be brought to tears and laughter as they navigate their way through Norm's work of triumph.